College Station HVAC Services
Dailey Company, Inc. Offers 24-Hour Emergency Service AC Repair & Tune-Up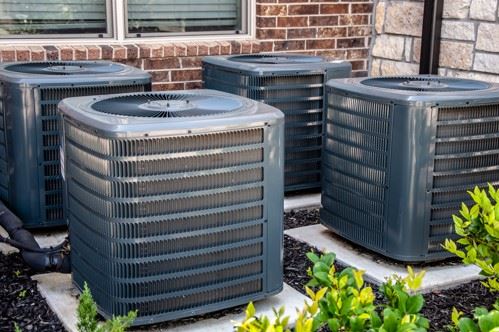 Are you looking to schedule a repair or tune-up for your furnace? Need to upgrade your old air conditioning unit to a more energy-efficient model? Or maybe your air has felt a little stale and stagnant lately?
If any of this applies to you, call Dailey Company, Inc. today. We offer fast and reliable HVAC service in College Station, TX, backed by experience and care. As a family-owned business, we are committed to going above and beyond for everyone we serve, striving to form long-lasting relationships based on mutual trust and respect in our community.
We also hire nothing but the most highly qualified technicians, and our entire team is fully licensed, bonded, and insured. In addition, we have received an A+ rating from the Better Business Bureau, so you can trust that our work is held to the highest standards. And with great reviews from homeowners across College Station, The Woodlands, and surrounding areas, Dailey Company, Inc. is the local HVAC contractor you can count on.
Call (979) 243-2568 or contact us online today to schedule prompt & dependable HVAC service in College Station, TX!
On This Page:
When You Hire Dailey Company, Inc. You Get:
24/7 Availability: Our techs are available 24/7 for emergency heating and air conditioning—no overtime charges necessary!
Upfront Pricing: Dailey Company, Inc. promises to tell you exactly how long the job will take and exactly what the price is before the process even begins.
100% Satisfaction Guaranteed: With our "fixed right or it's free" guarantee, Dailey Company, Inc. will always provide a free follow-up or a full refund if you are unsatisfied.
Types of Heating & Air Conditioning Services We Offer
Dailey Company, Inc. proudly offers all the essential heater and air conditioning assistance in College Station that your home requires. Our HVAC specialists are trained to handle all the latest makes and models of systems and come equipped to every job with industry-leading tools and technology.
We know how to get your heating and air conditioning units up and to run again ASAP, so you are never without the comfortable temperatures you deserve for long.
In addition, we can offer you a range of energy-efficient replacement options designed to work better and last longer than your current equipment if you need an upgrade.
And by joining our Family Savings Plan, you will receive regular maintenance to keep your equipment functioning at peak efficiency for years to come.
HVAC Services We Offer In College Station:
AC Services: With our 24-hour AC repair in College Station, you'll never have to worry about your system suddenly breaking down during a heatwave. We also offer AC replacements for a variety of needs, and our technicians know how to make sure you end up with AC equipment that is accurately sized and installed. With air conditioning maintenance options including inspections, tune-ups, and cleaning, your system will always remain in great shape. We even offer thermostat assistance, including cutting-edge smart thermostat replacements that can learn the ideal comfort preferences for your home.
Heating Services: When you call Dailey Company, Inc. for heating repairs in College Station, our technicians can take care of pretty much any issue you can think of, from humming to frequent cycling to rising energy bills to sudden shutdowns. We can also service virtually any major system on the market, including furnaces, heat pumps, ductless mini-splits, boilers, and more! And if you're looking for a heating installation, we can offer you an upgrade from one of the top brands on the HVAC market, including Lennox, Rheem, Trane, Goodman, Honeywell, Daikin, and Amana.
Indoor Air Quality Services: Have you been experiencing increased eye, nose, and throat irritation recently? Maybe you've been coughing or sneezing more than usual? Or perhaps you've even been dealing with nausea, headaches, and fatigue? If you've been experiencing any of these symptoms recently, or any other increased allergy and respiratory issues, you may want to consider installing an air quality device in your home. We offer air filtration systems, air purifiers, humidifiers, dehumidifiers, and more! Our air quality assistance in College Station are highly effective at reducing dust, pollen, pet dander, mold spores, bacteria, volatile organic compounds, as well as various airborne viruses and pathogens. Remember, the EPA has declared indoor air pollutants may now be an even bigger threat to our health and wellness than pollution outdoors, so never hesitate to call Dailey Company, Inc. to improve your house's air quality.
HVAC FAQ:
What Is An HVAC System?
An HVAC system's primary purpose is to heat, ventilate and cool your home. This is accomplished by moving air using a variety of different types of equipment within the system including:
Air conditioners - This is the primary system used in cooling your home. An air conditioning unit draws warm air from your home into itself and cools it by forcing the air over coils that are filled with refrigerant. The cool air is then forced out through the air ducts into your home.

Furnaces - A furnace does the opposite of what an AC unit does. Your furnace draws cool air into itself and heats it to the desired temperature before forcing it back out through the air ducts into your home.

Heat pumps - Heat pumps warm air by drawing colder air in from outside and forces it over colder refrigerant. This creates a phenomenon in which heat can then be drawn into the refrigerant and cause the coils in the system to become heated. The air is then warmed by being drawn over those heated coils.

Thermostats - The thermostat is the system by which you can control the temperature in your home.

Ductwork - The ducts are the channel through which air is dispelled throughout your home, whether it be cool or warm air.
Each piece of equipment in the HVAC system can require servicing from time to time and sometimes even needs to be fully replaced. At Dailey Company, Inc. we offer full service for your HVAC system.
Contact Our Trusted HVAC Specialists in College Station Today
If you're looking for reliable, professional, and affordable HVAC service College Station, The Woodlands and surrounding Texas communities, Dailey Company, Inc. is the name you need to know. We offer a number of specials and financing options to accommodate any budget.
Our HVAC specialists are all drug-tested and background-checked, because we care about your comfort and safety. We also provide courtesy calls before and after every service, and with live technicians always on the other end of the phone, you'll know you're in good hands from the first time you speak with one of our team members.
Request dependable repair, installation, or any other assistance in College Station, Texas, by calling(713) 496-0877 or submitting a contact form online today!